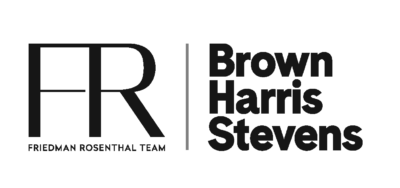 Walk a block in Manhattan with Mark D. Friedman or Richard Rosenthal and you'll run into someone who knows them. That's because these seasoned agents and friends have each lived here for 30+ years and have sold real estate all over the island—from Tribeca to Inwood and from Riverside Drive to East End Ave. They've done it all while having fun. It's no surprise, then, that the Friedman Rosenthal Team is an incredibly successful team at Brown Harris Stevens.
Mark and Richard not only know Manhattan tip to tip, they also work seamlessly together: Mark, drawing from his 15 years in sales and marketing in the health/fitness industry and his years of promoting himself as an actor, opera singer, and voice-over artist; and Richard using his 20 years of Wall Street experience to provide professional customer service and financial acumen. Equally creative and mathematical, they complement each other perfectly.
Given the success that Mark and Richard have had—over $600M in sales—you might think that their team is large and impersonal, but it's just the two of them. They do all the work themselves, without assistants. "When you hire us, you get us," Mark says. You can expect concierge service with the backing of a top NYC brokerage's marketing and reach—the best of both worlds.
Both Mark and Richard enjoy giving back to the city they love so much. Mark works tirelessly as a volunteer with the American Cancer Society and is Co-Chair of Taste of Hope, a culinary and spirits charity event celebrating its 14th year in May 2019. He is also a proud supporter of Guiding Eyes for the Blind, having raised three puppies to be service dogs. Richard and his wife Stacy are active supporters of Memorial Sloan Kettering Cancer Center. Richard is a board member of Ramapo for Children, an organization whose mission is to keep young people from being relegated to the margins of their schools, programs, families, or communities because of challenging behaviors, cognitive disabilities, or other differences. He also sits on the board of Steady Buckets, a not-for-profit, inner city youth basketball skills program.
Testimonials
"A note of thanks to both Richard and Mark for expediting the sale of our Park Avenue Co-op, they were both extremely professional and diligent, with great communication skills as well. We were kept in the loop as promised; their suggestions were correct from pricing to changes made to make the property more saleable." – Peter and Margaret F., Sellers (after 3 brokers and 3 board turndowns they came to us)
"As we were first time buyers in NYC, we needed a lot of guidance. Richard provided the advice and assistance necessary to streamline the process. He listened to our needs and desires and helped us locate the right home. He then helped us navigate the challenges of purchasing a NYC apartment with professionalism, knowledge and empathy." – Neil and Lenore S.