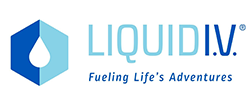 Liquid I.V.
WP Exclusive Perk
Get 15% off orders $30 or more
Hydrating electrolyte drinks for exercise recovery
What we love about Liquid I.V.
Liquid I.V.'s electrolyte drink mixes use Cellular Transport Technology (CTT®) to hydrate you faster than just water alone. Their tasty mixes contain essential vitamins and minerals for daily hydration, immunity, digestion, and sleep. Liquid I.V. uses all-natural flavors from fruits and vegetables, and their mixes contain no soy, dairy, or gluten.